We are delighted to offer the fantastic prize of a copy of
Marten Julian's 'Dark Horse Jumps Guide 2011-2012'
to the lucky winner in our Paddy Power Gold Cup tipping competition (and if you don't win don't worry – we'll be offering another copy next week!)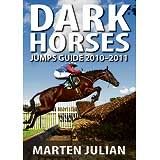 Click on picture to order
Marten Julian's Dark Horses Jumps Guide
is bigger and better than ever with a host of goodies to guide you through this Jumps season. The Jumps Guide is widely recognised and respected as the authoritative source of information about unexposed and unraced talent, including imports from Ireland and France. This year's Jumps Guide 2011-2012 includes the following:
1) Marten's Premier List – 20 horses which have been selected with the intention of making a profit to level stakes
2) Marten's Dark Horses – over 40 horses including imports from France, the Irish point-to-point field and the Flat
3) Marten's Handicap Projects – 20 horses which appear to have been trained specifically with handicap hurdles and chases in mind
4) Trainers' Selections – Marten has asked trainers in Britain and Ireland to each nominate one dark horse to follow
5) Cheltenham Preview – Marten previews the 2012 Gold Cup, Champion Hurdle and Queen Mother Champion Chase, nominating horses at 33/1, 25/1 and 8/1
Purchasers of the Dark Horses Jumps Guide will receive information on
• A horse for handicap hurdles which has been beaten a total of 259 lengths (and pulled up once) in five runs to date
• A recruit to a top yard from the English point-to-point field which is considered thrown in from his mark for handicap chases
• An ex-Irish point-to-pointer specially nominated for us by Paul Nicholls as his horse to follow
• Edward O'Grady's best prospect for hurdling from his team of last year's bumpers
• A once-raced hurdler handled by one of the shrewdest trainers in the business
• An up-and-coming staying handicap chaser with the perfect profile for the Welsh Grand National
• A Listed/Group class performer from the Flat switching codes and expected to take high rank in novice hurdles
• Donald McCain's most highly-regarded bumper horse from last year
• A maiden hurdler trained by Nick Williams who will start the season on a very low mark
• An eye-catcher trained by Venetia Williams
'In a field where many fall by the wayside, Marten Julian gallops on, still fascinated by the daily crossword puzzle challenge of horse races. A clever man, and a principled one, Julian feeds his considerable knowledge of horses, their connections and the particular circumstances of each race into a range of well-established publications ... they have become part of the racing scene.' David Ashforth, Racing Post
Details of how to enter below.