We recently invited everyone to submit some captions for the photo below, taken in the winner's enclosure at Epsom after St Nicholas Abbey's Coronation Cup win.
Some great captions so we have a nice prize of the Royal Ascot racecard from Wednesday this year signed by Joseph O'Brien. It the day Joseph won his first Royal Ascot race, aboard So You Think, who, as it truns out, was having his last ever run.
Below are the six finalists for the competition - vote for who you think should win, closes midnight next Friday.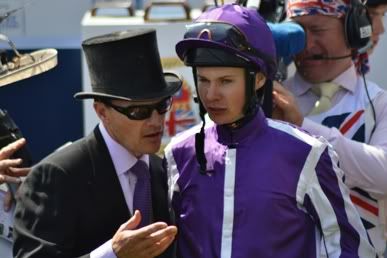 Superman
- Aidan: Now pretend i'm a racing interviewer like Rishi or Lydia, what do you tink of my hand ?
Joseph: I tink it's a very nice hand. The hand has alot of class and has a very nice pedigree. We tink in time you could beat anyone at boxing because we've always taught alot about both of them. We don't know where the hand will go next. We're tinkin about sending it in to the kitchen to make a cup of tea, but we also tink it has the ability to knit a jumper or make paper aeroplanes later down the line. We will ask the lads first.
SBerry
- "Listen son, that was good and you can win the derby too but whatever you do make sure you ride a shocker tomorrow in France as John just phoned and told me he's laying the bollocks off Imperial, stick it out the back and don't even get the fecker placed, understand?"
Andrew03
- AOB to Joseph - "have you had my mobile again son?"
KenH
- ' Don't worry about the guy behind me dad, there's one behind you about to strangle you'.
Steveh31
- I know were Irish dad but that doesn't mean you have to dress up like that pillock Bono.
Rayzor
- Well done, son. You finished in front of the pacemaker this time. Sure, you're getting the hang of this riding stuff at last.
What's that, you say? You thought you were on the pacemaker! Ssshhhh, don't tell anyone.
Now have you seen my mobile phone? It's been three seconds since I made a call.
Triptych
- "Listen very carefully I shall say zis only once."
Nathan Hughes
- Aiden - "Son, don't look now but that Andyod from TRF wants a chat with us"
Joey - "Will run on the count of 3 Dad"
Pen'n'Paper
- "Oh, for feck sake, I AM LISTENIN' DAH!"
Stevecaution
- "Listen now, that's more like it son. If you had ridden the fecker the same way as last time, it would be me that was needin' a pacemaker!!"